Displays for Art
Displays for art can come in variety of styles, and if you have an art collection you probably already have a number of gallery display stands already. Some art or antiquities do not stand on their own and need a display stand to hold them up or stabilize them if they are unsteady. Some pieces stand on their own or are made with a base attached. For the pieces that need help standing there are many options from art display suppliers as well as exhibition mount makers. There are many displays for art that are ready made stock items that can be purchased to display your art or artifacts. There are also some art display stands that you can bend yourself to get a customized fit for your artwork. These artifact displays are display armatures that come in a variety of shapes, sizes and styles. For the more difficult pieces and complicated exhibition displays you may need to hire a custom mount maker. They can fabricate a display that fits your smallest art object to making a full display exhibition. So if you are an art collector, art gallery, museum, exhibition designer, or other institution you probably need displays for art. Here we show a number of categories for displaying art, artifacts, or collectibles.
Display Risers and Bases:
Clear, Black, and Wood Risers and Base Displays for Art. Risers and bases can set off your art piece or use multiple sizes to create a more interesting display.
Clear Acrylic Ring Displays:
Acrylic rings can be used as displays for art for round bottom objects.
Displays for specific items:
Display stands for weapons like guns, swords, clubs, ect.:





Displays for art, artifacts, antiques and collectibles:







Armature Display Stands:
"Do It Yourself" metal armature displays for art that you bend to fit your art and collectibles:




Plate and Bowl Stands: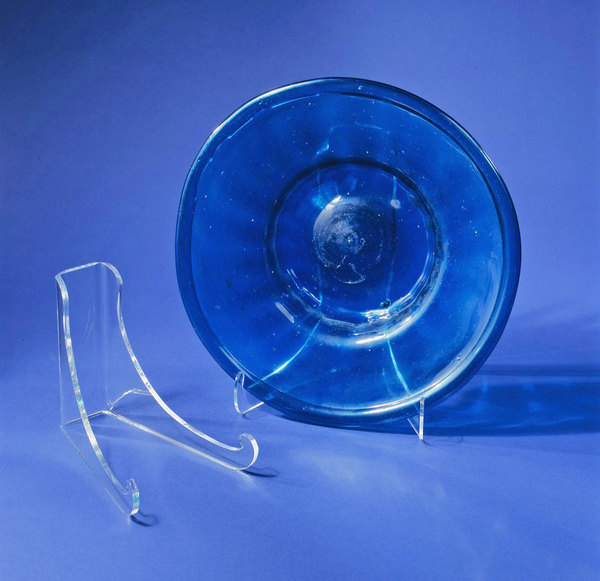 Collectible plates, bowls, cups and saucers are available in a wide range from many cultures and time periods. There are a number of ways to display plates, the most popular approach is the easel. Bowl stands require a deeper easel than a plate stand simply because bowls are deeper than plates. There are many stock plate and bowl stands in a variety of sizes and styles. Clear easels are available in a large range of sizes going up to 18" tall to hold a platter or charger. There are also clear bowl stands as well. Some clear stands are also adjustable, allowing you to adjust for depth or the angle of display. Easels in wood are also available in a number of sizes and finishes including deep easels for bowls. These easels are folding so the depth has some adjustability. There are risers for plates and bowls as well as platform easels, which are used for objects with pointed bottoms like a "heart" shape. Risers can also be used to display the piece at a higher level so something can be placed out in front. Another way to display a plate is on the wall. The size and weight of your plate will determine which style wall hanger is best for your needs. Standard spring wire holders can be used on lighter plates. These have some adjustability to them in the expansion of the spring. Other adjustable holders are plastic and put less stress on the point of contact. Larger plates can be displayed with an adjustable acrylic wall holder. Another option for wall mounting, in both metal and acrylic, are wall easels. Displays for cup and saucer sets are available in both acrylic and metal. In addition, there are displays that hold multiple plate settings.
Display Art Easels:
There are many types of easels for displaying your artwork. Decorative Easels, Metal Easels, Adjustable Easels, Acrylic Easels, Wood Easels, and Floor Easels.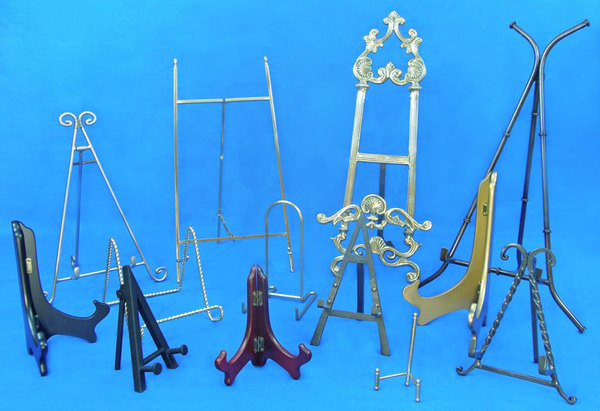 Display Cases and Shelves:
Table cases, wall cases, and shelves to display your art.





Information Systems
Sign holders and other items for identifying art and displaying information:






Some Types of Artifacts:
Usahbti, Celt, Etruscan, Geometric, Coreform glass, Bronzes, Egyptian, Roman, Greek, Faience, Amulets, Jade, Oil lamps, Terra Cotta, Byzantine, Olmec, Mezcala, Pre Columbian, Mayan, Aztec, Stylized, Estarte, Bi, Anatolian, Luristan, Hellenistic, Mycenaean, Sardinian, Thraco-Scythian, Tlatilco, Pre Classic, Teotihuacan, Colima, Jalisco, Vera Cruz, Chavin, Moche, Chimu, Quimbaya, Valdivia, Pairona, Cycladic, Inuit, North West Coast, Eskimo, Native American, Indian, Tang Dynasty, Ming Dynasty, Ching Dynasty, Nordic, Ancient coins, Medieval, Mineral.
Custom Displays for Art: